Design Your One Art Project
Emery Hannum
Artist Statement:
My piece is a computer drawing of a field that is ding or coming back to life. With a blue sky with different shades blending into a red ground which can mean different things. There are grass or weeds growing in between the two collars. In my art piece I have cool and warm colors kinda blended into each other. My art piece was created starting with two different colors and worked from there. I did a rough outline on what I was going to want tit to do. When doing this project I was recording my process and speed it up so it was faster than when done in real time. The video will be up on my dp under 9th grade digital arts. It will also be on youtube. I am hoping to work more on piece of art by improving my art skills and have work I am proud of.
---
Environmental Documentary Project
| | |
| --- | --- |
| In this Documentary Project we needed to create a document on an environmental issues for a school project. My video is to help with the wild horses in disappointment valley. Some problem solving skills are to try your best to get an interview as soon as you can and to worck on your video and get it done sooner. To create a video it is good to have a out line so you have a good idea of how your video is going to go. It docent mater if it changes it is gust a helping guide. Art is used in everyday life because it is everywhere in pictures, video, the forest, and even a spoon. They are all different forms of art. | |
Mini Stop Motion Project
During this mini project I decided to work with a friend on creating a stop motion. We started out trying to finger out what to do and dent want to do anything similar to what other people are doing. We soon decided to do a stop motion on a piece of wood going dun the stream near the school.We had two days to work on our project. We started later then others , the next day we took more pickers and had some more images we cud use. It was not working the best and i fell in. Only one foot got wet but i was OK. When looking at the pickers i found that they wernt that good. During the weekend I came back to the school and recreated my video. My new video with the other pickers is to you right.

The Logo Project

During this project we were apost to create a logo to represent something or yourself. I created a logo for a horse ranch the I always wanted and how i would want it to look like even thow I might change it up later on.

In this project I have a connection with my dad because he used to be a logo designer before he decided to do a different job. He also created his one logo for his business. My dad made the logo for the Chip Peddler and he is also the creator of the chip peddler.

---
In the beginning of this project i was thinkin of doing a new logo for mild to wild but it kinda got a bit boring and the programs weren't working for me. Halfway through the project i decided to change and create a logo for a horse farm i have always wanted.
Powered by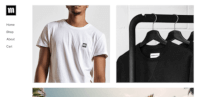 Create your own unique website with customizable templates.